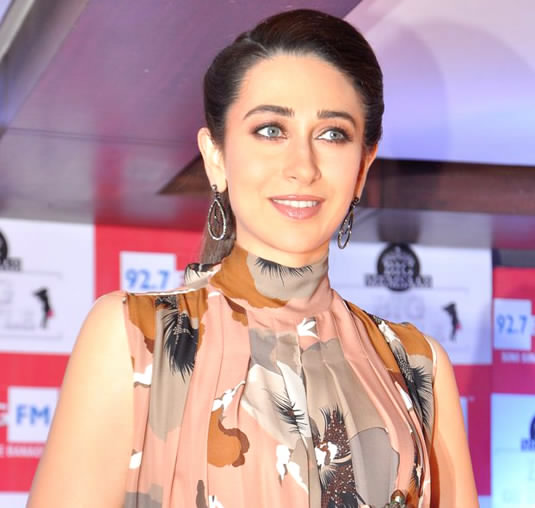 Karishma Kapoor (born 25 June 1974) is an Indian film actress. One of the most popular Hindi film actresses of the 1990s and early 2000s, she is the recipient of several accolades, including a National Film Award and four Filmfare Awards.
Born and raised in Mumbai, she is a member of the Kapoor family, where her parents and other relatives are all involved in the Indian film industry. Despite her family background, her father disliked women entering films, and separated from her mother. Kapoor, at the age of seventeen, left her studies to pursue a film career for financial support, and made her acting debut with a leading role in the moderately successful Prem Qaidi (1991) opposite Harish Kumar. Subsequently, Kapoor starred in a number of box office hits, including the dramas Jigar (1992) and Anari (1993), the comedies Raja Babu (1994), Coolie No. 1 (1995) and Saajan Chale Sasural (1996), and the thriller Jeet (1996). However, she was criticized for her brief, repetitive roles and inclination to male-dominated films.
The 1996 blockbuster romance Raja Hindustani marked a significant turning point in Kapoor's career, earning her praise and a Filmfare Award for Best Actress. She later won the National Film Award and Filmfare Award for Best Supporting Actress for her portrayal of a dancer in the musical romance Dil To Pagal Hai (1997). Kapoor achieved further success by featuring as the female lead in three of David Dhawan's top grossing romantic comedies—Hero No.1 (1997), Biwi No.1 (1999) and Dulhan Hum Le Jayenge (2000), and the highly successful family drama Hum Saath-Saath Hain (1999)—and won the Best Actress and Best Actress Critics awards at Filmfare for her titular roles in the dramas Fiza (2000) and Zubeidaa (2001). Kapoor took a sabbatical from full-time acting in 2004, and has since acted intermittently. She starred in the supernatural thriller Dangerous Ishqq (2012) and the comedy web series Mentalhood (2020).
Early Life and Background
The Kapoor was born on 25 June 1974 in Mumbai, to actors Randhir Kapoor and Babita (née Shivdasani). Her younger sister, Kareena, is also a film actress. Her paternal grandfather was the actor and filmmaker Raj Kapoor, while her maternal grandfather was actor Hari Shivdasani. Her great-grandfather was actor Prithviraj. The actors Rishi and Rajiv are her uncles, while the actress Neetu Singh and entrepreneur Ritu Nanda are her aunts. Her first cousins includes the actors Ranbir Kapoor, Armaan Jain and Aadar Jain, and the businessman Nikhil Nanda. The actors Shammi and Shashi are her grand-uncles, and the late actress Sadhana was her mother's first cousin. Kapoor is informally called as "Lolo" at her home. According to Kapoor, the name, Lolo, was derived after her mother made a passing reference to the Italian actress Gina Lollobrigida. Both of her paternal and maternal grandparents were from Peshawar, Lyallpur and Karachi respectively, who moved to Bombay for their film careers before the partition of India.[citation needed] Kapoor is of Hindu Punjabi descent on her father's side, and on her mother's side she is of Sindhi and British descent.
Particularly inspired by the work of actresses Sridevi and Madhuri Dixit, Kapoor was keen on pursuing acting since childhood. While growing up, Kapoor regularly attended award ceremonies and accompanied by her parents to film sets. However, despite her family background, her father disapproved of women working in films, because he believed it conflicted with the traditional maternal duties and responsibility of women in the family. This led to a conflict between her parents and they separated in 1988. She and her sister Kareena were raised by their mother, who worked several jobs to raise them, until she made her debut in films as an actress. The couple reconciled in 2007, after living separately for several years. Kapoor studied at the Cathedral and John Connon School and later, for a few months at Sophia College. Kapoor later said that she left college to pursue acting for financial support.